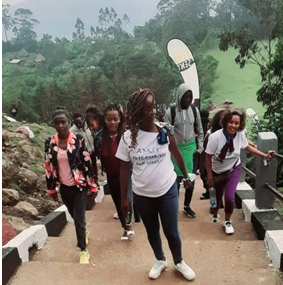 Bogaletch Gebre Memorial Event At  Hambaricho Mountain 
A memorial event to recognize the immense contributions of Ms. Bogatech Gebre in transforming the lives of women, girls in Ethiopia  was organized recently by the Federal Ministry of Women and Children Affairs. The event consisted of hundreds of women and girls and supporters from various parts of the country converging at and climbing the 777 steps of Hambaricho Mountain.
It should be noted that Hambaricho Mountain has a lot of historical, cultural  and spiritual  significance to the local Kambata community.  KMG has over the years led efforts to plant 9 million indigenous trees  on this important mountain. Also,  the Kambata Zone administration has built 777 staircases that crisscross the mountain from the bottom to the summit in a large-scale project to make Hambaricho Mountain a tourist destination for local and international visitors.