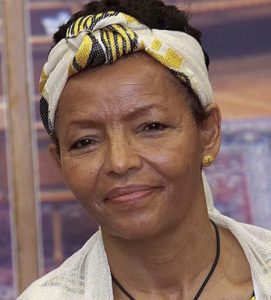 Bogaletch Gebre Kabre
1947-2019
---
"A LIFE DEDICATED TO FIGHT SOCIAL INJUSTICE AND INEQUALITIES"
Bogaletch Gebre, affectionately "Boge", was born in Zato village, Kembatta, from her father Mr. Gebre Kabre and her mother Mrs. Lonseke Ayemo. Boge grew up in a small village in Ethiopia. Boge was like any typical Ethiopian girl –she fetched water and helped her mother with cooking and chores. And, like any typical Ethiopian girl of that time, she suffered FGM where she nearly bled to death. But, unlike a typical Ethiopian girl, Boge attended school in secret, leaving her house to "fetch water". She went on to pursue undergraduate and graduate studies abroad. While Boge was pursuing her PhD, Ethiopia was experiencing severe famine and became an image of starvation in the 1980's. She ran the Los Angeles Marathon to raise awareness of the plight of her people. She went on to establish a charity named Parents International. She collected literally thousands of books for schools in Ethiopia. She ran five more marathons to raise funds to ship the books to Ethiopia.
In 1997, Boge returned to Ethiopia and founded KMG Ethiopia with her late sister Fikerte Gebre, in order to help change the lives of women and girls in her community. KMG stands for Kembatti Mentti-Gezimma-Topee, a phrase in the local language of Kembatta that reflects the power women generate when working together. She truly believed that communities, women and men working harmoniously together, have the power to make great changes for themselves. With that belief, she launched a massive, integrated program to mobilize the communities to say "No" to FGM and violence against women. She built a Women's Clinic to help address women's and girl's reproductive health. Boge pioneered the use of community conversations to accelerate positive cultural change to help eradicate HIV/AIDS, social inequalities and violence. Over time, Boge expanded KMG's reach into neighboring Zones and regions to fight injustice and violence against women, girls and all marginalized communities like the Fuga: potters who were considered outcast and discriminated against.
Because of KMG Ethiopia's organizing efforts, harmful practices such as FGM have been virtually eliminated in KMG's operating areas. Ethiopian women are walking with their heads up, demanding and receiving justice, being appointed and elected to public positions, and establishing their own militias to protect their rights and those of their daughters.  Boge's life story and achievements are used as references to enlighten many students.  Boge's efforts and contribution in the fight against gender-based discrimination and violence have been recognized by national and international entities; and she has received more than fifteen major awards and recognitions. Boge has left us and she will be deeply missed, but her accomplishments will live on and will be passed on to future generations.
Let the memory of Boge be with us forever.
DENDINAM!!