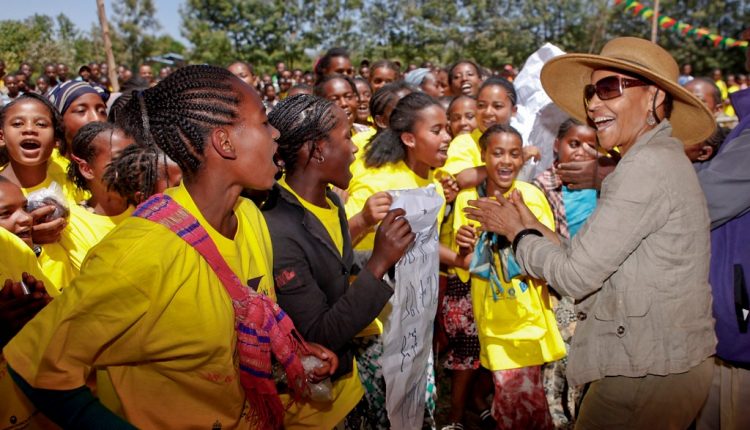 Bogaletch Gebre (1953-2019)
It is with great sadness that we report Bogaletch Gebre passed away in Los Angeles, California on November 2nd, 2019. Her family plans to take her body to Ethiopia for burial.  Details of the burial ceremony and associated memorials will be announced when they are determined.  The following is a brief recap of Boge's extraordinary life filled with challenges, fierce determination, sacrifices and monumental accomplishments.
Bogaletch Gebre – or Boge, as she is more commonly known – was born to a farming family in Zato village of the Kembatta district; about 370km (255 miles) southwest of Addis Ababa in Ethiopia.  Her mother was Lonseke Ayemo and her father, Gebre Kabre.  Boge was one of 14 children, most of whom died in childhood.
Like a typical Ethiopian girl, Boge fetched water and helped her mother with cooking and chores. And, like any typical Ethiopian girl of that time, she suffered female genital mutilation (FGM). When she was about twelve years old, a man held her down while two strong women held her legs, and a third woman sat between them—using a razor to slash at her genitals. Boge nearly bled to death.
Boge's wounds eventually healed, and she continued with her daily routines. But, unlike a typical Ethiopian girl, Boge attended school in secret, leaving her house early in the morning to fetch water and hiding the water pot in the bushes while attending classes for a few hours. Her uncle helped her complete her chores, and by the time her secret was discovered, Boge could already read. She went on to study Epidemiology and Parasitology in Israel, and then continued her education in the United States, where she was a Fulbright scholar and earned a Masters Degree at the University of Massachusetts Amherst.  She later enrolled in a PhD program in Epidemiology at the University of California in Los Angeles.
When Boge was told by doctors after a car accident in 1987 that she would never walk again, not only did she prove them wrong, she later ran five marathons. Such tenacity was one of Boge's trademarks as she had to overcome tremendous adversity since childhood. The marathons enabled her to gather the resources to start a project she has been planning for some time.  This project would become the nucleus of the programs she was determined to initiate: a Women's Center, with vocational training school and allied, self-supporting businesses;  a Library and Community Resource Center, including a Women's Dialogue  House, as well as Reproductive Health education, Mother-child health services, and an HIV/AIDS Awareness Prevention and Control program to include re-education to eradicate female genital excision and eliminate the domestic violence and gender-based discrimination which she grew up witnessing.
By the time she was working on her PhD in Los Angeles, her country was struck by famine, poverty and political turmoil. These events drove Gebre to devote herself fully to helping the people of her native Ethiopia.
Boge realized that she had been given great opportunities in her life that were unheard of for the people in her village. In 1997, Boge returned to Ethiopia with US $5000 she raised and a vision to give back and help change the lives of girls in her community. Together with her sister, Fikirte, she founded of Kembatti Mentti Gezzimma (KMG) Ethiopia: a nonprofit organization that envisages a society where women are free from all forms of discrimination and violence and able to attain justice and equality for themselves, their families and their communities.
Boge strongly believed that true change comes from within, and the engagement of communities in creating a more inclusive society is the key to long term sustainable development.  
Boge used Community Conversations as the primary vehicle to engage people and enhance their capacities to make change. Hence, this became her mission: to educate her people, and empower them, by providing occasions and space for conversations, dialogue and debate, so the communities could make informed decisions to take appropriate actions to solve their concerns.
Boge also strongly believed the struggle for women's rights cannot be fought in isolation without addressing its cultural, social, economic, environmental and political underpinnings. She strongly believed development must be integrated, holistic, and sustainable and be owned by the very people whose lives are impacted.
That is why KMG has initiated a series of integrated programs that address women's empowerment in a holistic manner. For example, KMG built roads and bridges to reduce the time it takes to go to the market or fetch water and firewood. Environmental rehabilitation projects such as reforestation are enabling women to find firewood close to their homes. Economic empowerment activities enable them to become less dependent on men. And education provides girls with skills and knowledge to be more independent and self-confident.
Since its founding, and under the leadership of Boge, KMG has brought lasting, positive change to the lives of Ethiopian women and their families—which importantly bolsters the well-being of entire communities. KMG has transformed attitudes about issues that are culturally taboo, opening conversations about these difficult topics and changing the attitudes and behavior of both men and women in a positive way.
The rate of FGM in KMG operational areas decreased from nearly 100% in 1999 to less than 3% in 2008. Communities now establish social sanctions and bans on practices like FGM, child marriage, bride, abduction, polygamy, widow inheritance and domestic violence. Local courts now have a special bench dedicated to hear only women cases.  KMG has also helped to build ten rural bridges, seven wells and enhanced five springs.  Over 9 million indigenous trees have been planted on Hambaricho Mountain, a vital watershed in the region.  KMG has empowered people living with HIV & AIDS, especially women, and have connected them with AIDS orphans in their respective communities.
Thanks to Boge's vision, commitment and tenacity, millions of Ethiopian women are walking with their heads held high, demanding and receiving justice, being appointed and elected to public positions, and establishing their own militias to protect their rights and those of their daughters.
Under the leadership of Boge, KMG has been recognized by national and international
entities for its immense contributions to the empowerment of women in the fight against gender-based discrimination and violence and has received more than fifteen major awards and recognitions. (For a complete list of awards, honors, and recognitions, please see the "Impacts & Awards" section of this KMG Website).
Most recently, Boge attended the Women Economic Forum (WEF) in New Delhi, where she received a "Women of the Decade in Community Leadership" Award in recognition of her "empowering leadership and stellar contributions".
Yes, Boge Gebre has left us and she will be deeply missed, but her accomplishments live on and will be passed on to future generations.